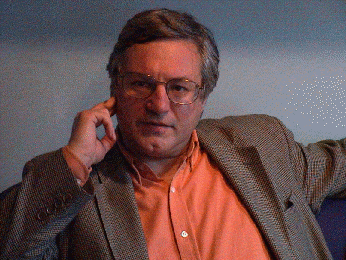 Anthony B. Sloman: Director and Founder of CineScale
About this page:
This page is about CineScale and approved by it's director Anthony B. Sloman, known film maker and historian. It is designed and maintained by his son Jonathan Sloman.
In the future, we intend to add a Downloads page, consisting of sound files of radio shows and interviews by and with Anthony Sloman, as well as scripts and transcripts, and eventually we hope to include video files of trailers, adverts, and the never-released Cannes documentary Celluloid Phoenix, as well as completely updating the biography and filmographies.
Finally, this page is always

, so bookmark us and check back often.
What's New?:
14th March 2001: SITE UPDATES: This site now has an online e-mail service which will send your messages direct from your web browser to Anthony Sloman's office. It can be accessed from the bottom of the Contact page. There have also been some additions to the Links page, including a small section about The Falls.
12th March 2001: After a successful and entertaining weekend at the Bradford Film Festival's Widescreen Weekend where he took part in discussions about 2001: A Space Odyssey and the future of 70mm, and introduced such films as How The West Was Won and Camelot, Tony Sloman is keeping busy on several new projects. As well as continuing his role as Risk Manager on The Visual Bible: Mark and John (dir. Jakob de Boer), he is also undertaking new positions as the post-production executive on To End All Wars, an update of Bridge On The River Kwai starring Robert Carlyle and Kiefer Sutherland and directed by David Cunningham, and as Producer on A Walk In The Sun, a new film to be directed by John Milius. He will also be risk managing Rachael Talalay's new film Preacher. SITE UPDATES: The Biography has been updated to include the last year, the Contact page now includes an address and phone and fax numbers, and there have been a few new additions to the Links page.
8th March 2001: This page is now online, yet not fully completed. It will be updated as soon as possible.
---